5 Simple Ways To Be An Organized Mom
---
I am a mom of 4 children ages 15, 5, 3,& 1. Life can be utter chaos at times…oh did I forget to add we have 2 dogs as well (who might as well be children). When I had my 5 & 3 year old close together I thought I would drown under the exhaustion, loneliness, and constant feeling of being behind. It wasn't til I started researching ways to get myself organized that I found solutions that worked. I admit some solutions didn't always work for our family & lifestyle. Below is what has been a proven success for me and even works while we are traveling as a family.
Affiliate links are included below. This means I will receive a commission, at no cost to you, if you purchase a product through my link. Thank you for your support! 🙂
---
1. Learn to Say No – Don't over commit yourself, Don't join every mommy and me activity, Don't attend every story time & or play date. Learn to say No and schedule activities you want to participate with your children in.
Note : I try and maintain 2 to 3 days a week where we don't have scheduled activities.
2. Find a Planner , Calendar and or App – I personally love the following items:
My Erin Condren Life Planner – I am getting ready to order a new one. I use mine to journal in record everything schedules,etc. I am very much a pen and paper person.
Cozi App – This is great for managing my husband and teenager. I program everything in weekly and I can send "to do" lists to my husband or teenager. It's a lifesaver!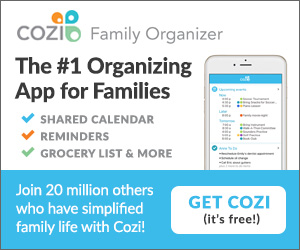 Evernote – This is more for me for work purposes. I use it while I am listening to podcasts or audio books. I also use it for my blog/website work. I only get a handful of hours to work, so I need to make sure everything is easy for me to use. The best part is I can access it from both my phone and computer. I have sections in it for books or advice, Sections that include important inforelated to my blog, and best of all a continuous list of post ideas. It makes my life easier overall.
3. Have a Routine for Almost Everything – I read somewhere that the more items in your life you can put on auto pilot for your brain, the more time you will have to enjoy life.
For Me I want my focus to be on the following : self- care & goals, Family Life (present with my kids & homeschooling), Focus on My Marriage , & Close Friendships.
Here are the items I have on auto pilot:
Morning Routine : I wake up at the same time everyday on the weekends I may sleep in an extra half hour … 4:30 to 5 am. ( Drink water, journal & read, look at my day, clear out my emails, drink coffee write & blog, shower and dress,& 3 days a week I workout ) Then breakfast and kids up, more coffee, and we begin our day.
Evening Routine : Dinner, playtime family time, bath's and pj's, story time & bed, quick clean up and set up coffee pot, sometimes I work or watch a show, then I go to bed by 10pm. ( Sleep is very important as at least one of my kids wakes me up at night.)
Grocery Shopping Routine : I use Kroger clicklist same day every week and same time, I used to grocery shop same day and time every week, now with clicklist I order my groceries online and pick them up. I use my meal plan and place my order and schedule my pick up time. Clicklist remembers what I order so there isn't much that changes from week to week.
I also do Amazon pantry box and Amazon Subscribe & Save! These services are also auto pilot.
Subscribe and Save – Is set up monthly ( dog food, diapers, wipes, hand soaps, Kleenex, paper products,etc.)
Pantry Box – I do every two weeks for the following ( whole foods snacks, dog treats, laundry soap, bath & toiletries) these all work out to be cheaper than grocery store plus they have coupons. Personally unless it is a digital coupon I don't bother with coupons.
Note : I highly recommend Meal Planning! This changed my life!
Cleaning Routine: Either hire this out or find a system that works. I have done both when our budget permits it I like to hire the cleaning of the house. If budget doesn't permit then I have a cleaning schedule. I tweaked til I found what works. I also have a laundry schedule I only do laundry 3 days a week and my husband and teenager both do their own laundry on Sunday afternoons.
4. Maintain a Capsule Wardrobe – You are probably thinking how does that make life easier. We switched to capsule Wardrobes for everyone in my family 3 years ago and here is how it works for us. We each have 7 interchangeable outfits and I have 2 "mom workout outfits". Each person has 2 to 3 pairs of shoes depending on season. This does the following for us:   
A. Everyone can pick out clothes and get dressed pretty quickly because there is not a lot to choose from and everything coordinates. My 3 and 5 year old can pick out an outfit and dress themselves every morning. I also don't have to worry that it won't match or look ridiculous. Plus this gives them some control.
B. Cuts down on the amount of laundry.
C. I am able to spend a little more on quality clothes and outfits sense we are not buying a lot. This helps as my 5 year olds clothes get passed down to my 3 year old.
D.I don't spend time figuring out what to wear each day. I have outfits I can dress up or down depending on my day. I even keep my jewelry to a handful of pieces to make that even easier.
5. I am always ready to leave the House….meaning the following my diaper bag & snack bag and the car bag ( this contains a few travel toys and the kindle Fires for my kids) is always set up. I check it each night before bed. I have my diaper bag stocked and a snack bag stocked ( animal crackers, apple sauce, pretzels, Kind protein bars & a bag of nuts). These bags are always ready to go so if we have to leave for an event or to run errands we are set to go!
There are other areas that I have organized my Life but these are my go to 5! They don't ever change for us…if I am home or traveling. The above pretty much happens on the same schedule. Do you have anything that works great for you? As always share comments or pin this post for later.
Til Our Next Adventure,
Jenn
SaveSave
SaveSave
SaveSave
SaveSave